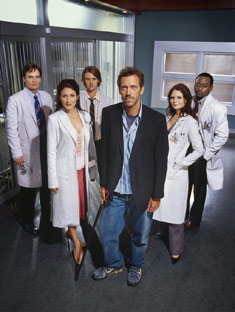 L-R:
Robert Sean Leonard, Lisa Edelstein,
Jesse Spencer, Hugh Laurie,
Jennifer Morrison, Omar Epps.
©2005 FOX BROADCASTING COMPANY
Credit: Nigel Parry/FOX
People have asked when I will update the Character pages. For the last two years the system has developed to do character information within the page on the episode that contains that information. The character pages just got too long and we ran out of time.
Main Characters
For links to websites about the actors, the cast see our Resources page.