See the spoilerish interviews and promotion featurette for Season 5.

Season Five Episodes
Dying Changes Everything
Not Cancer
Adverse Events
According to "Abella" on The Television Without Pity's House Forum "Ep 7 is rumored to be entitled 'The Itch' & written by Peter Blake."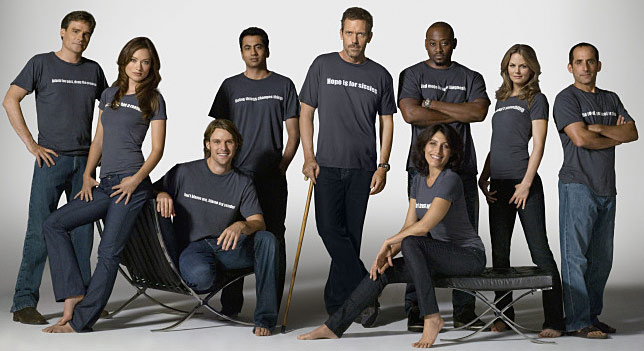 Robert Sean Leonard, Olivia Wilde, Jesse Spencer, Kal Penn, Hugh Laurie, Omar Epps, Lisa Edelstein, Jennifer Morrisson, Peter Jacobson.
The fifth season of HOUSE premieres Tuesday, Sept. 16 (8-9 ET/PT) on FOX. ©2008 Fox Broadcasting Co. Credits: Timothy White/FOX
Each Person is wearing a unique T-shirt with a saying made for that character. House's says, "Hope is for sissies",
Wislon's is "Admit the past, deny the present", Chase's "Don't blame me, blame my gender", Foreman has "Bad mojo is not a diagnosis,"
Kutner has "Doing things, changes things", Taub's is "Be good, get good or give [up?]". From there we have guesses:
Cuddy has something like "Don't trust op[inion]", Cameron's "[to]day's something", and Thirteen's "[Every]thing has a reason."
The largest version of this can be seen here. It anyone sees something we have missed, please email us.



Hugh Laurie as Dr. Gregory House. The fifth season of HOUSE premieres Tuesday, Sept. 16 (8-9) on FOX. ©2008 Fox Broadcasting Co. Credits: Timothy White/FOX


Robert Sean Leonard as Dr. James Wilson.
The fifth season of HOUSE premieres Tuesday, Sept. 16 (8:00-9:00 PM ET/PT) on FOX.
©2008 Fox Broadcasting Co. Credits: Joseph Viles/FOX

Lisa Edelstein as Dr. Lisa Cuddy.
The fifth season of HOUSE premieres Tuesday, Sept. 16 (8:00-9:00 PM ET/PT) on FOX.
©2008 Fox Broadcasting Co. Credits: Joseph Viles/FOX
| | | |
| --- | --- | --- |
| Omar Epps as Dr. Eric Foreman. The fifth season of HOUSE premieres Tuesday, Sept. 16 (8:00-9:00 PM ET/PT) on FOX. ©2008 Fox Broadcasting Co. Credits: Joseph Viles/FOX | Jennifer Morrison as Dr. Allison Cameron. The fifth season of HOUSE premieres Tuesday, Sept. 16 (8:00-9:00 PM ET/PT) on FOX. ©2008 Fox Broadcasting Co. Credits: Joseph Viles/FOX | Jesse Spencer as Dr. Robert Chase. The fifth season of HOUSE premieres Tuesday, Sept. 16 (8:00-9:00 PM ET/PT) on FOX. ©2008 Fox Broadcasting Co. Credits: Joseph Viles/FOX |
| | | |
| --- | --- | --- |
| Kal Penn as Dr. Lawrence Kutner. The fifth season of HOUSE premieres Tuesday, Sept. 16 (8:00-9:00 PM ET/PT) on FOX. ©2008 Fox Broadcasting Co. Credits: Joseph Viles/FOX | Olivia Wilde as Dr. Remy Hadley. The fifth season of HOUSE premieres Tuesday, Sept. 16 (8:00-9:00 PM ET/PT) on FOX. ©2008 Fox Broadcasting Co. Credits: Joseph Viles/FOX | Peter Jacobson as Dr. Chris Taub. The fifth season of HOUSE premieres Tuesday, Sept. 16 (8:00-9:00 PM ET/PT) on FOX. ©2008 Fox Broadcasting Co. Credits: Joseph Viles/FOX |