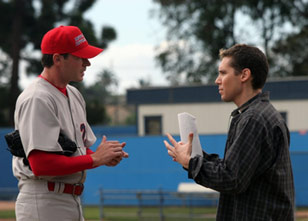 Director Bryan Singer, right, plays himself
directing a spot that results in a new patient for Dr. House.
2005 FOX BROADCASTING COMPANY
Credit: ichael Desmond/FOX
From "Public Access," his award-winning debut, to "X-Men," his superhero franchise, Bryan Singer has infused his films with richly drawn characters and a bold visual style.
Singer returned to theaters with 2003's mega summer blockbuster, "X2," the follow-up to his summer 2000 blockbuster, "X-Men." "X2" reunited him with an all-star cast that included Hugh Jackman, Halle Berry, Anna Paquin, Sir Ian McKellan, Patrick Stewart, James Marsden, Famke Janssen and Rebecca Romijn-Stamos.
Singer carefully helmed the adaptation with a keen awareness of the 40-year-old comic franchise's legion of admirers. Comic fans and new audiences overwhelmingly embraced his vision, which seamlessly fused the science-fiction and action/adventure genres. "X2" was the first feature film in history to simultaneously open on screens worldwide on such a grand scale (93 territories) and to date, the "X-Men" franchise has grossed over $1 billion worldwide.
Singer first gained notice in 1995 with the mystery/thriller "The Usual Suspects," which starred Kevin Spacey (whose performance garnered an Academy Award), Benicio Del Toro, Gabriel Byrne and Kevin Pollack. He followed "The Usual Suspects" with "Apt Pupil," which also starred "X-Men" and "X-2's" Sir Ian McKellan, and was adapted from a Stephen King novella.
"Public Access," the 1993 independent feature written by Singer, Chris McQuarrie and Michael Feit Dougan, shared the Grand Jury Prize at the Sundance Film Festival and won the Critics Award at the Deauville Film Festival.