Hear the Band from TV
(featuring Hugh Laurie, Bob Guiney, Bonnie Somerville,
Greg Grunberg, and James Denton.)
playing
"You Can't Always Get What you Want"
from the Soundtrack

Now available
for Pre-Order from Amazon at 22% off.
Shipping September 18, 2007

Also available from Amazon UK

And Amazon.ca (Canada)



Here is

what Fox says about the soundtrack

:

Hugh Laurie with Band From TV Covers Rolling Stones Classic

The album features music from such artists as Ben Harper, Gomez, Lucinda Williams and Joe Cocker, as well as previously unreleased tracks from Sarah McLachlan and Elvis Costello. In addition, the soundtrack includes HOUSE star Hugh Laurie covering the Rolling Stones classic "You Can't Always Get What You Want" with Band From TV, including Greg Grunberg ("Heroes"), James Denton ("Desperate Housewives"), Bonnie Somerville ("Cashmere Mafia"), Bob Guiney ("The Bachelor"), to benefit Laurie's charity Save The Children and other non-profit organizations.

The 12-track compilation echoes the alluring and sometimes dark feel of the emotionally charged series, with Massive Attack's "Teardrop" (the theme song of the series) opening the collection that also includes Ben Harper's "Waiting On An Angel," Lucinda William's "Are You Alright?" and Josh Rouse's "God, Please Let Me Go Back."

Fans also get a bonus with never-before released tracks including Elvis Costello's fresh spin on Christina Aguilera's #1 hit single "Beautiful" and Sarah McLachlan's cover of the XTC classic "Dear God" (previously only available in Canada).
Track listing:

Massive Attack - Teardrop
Gomez - See The World
Jon Clearly & The Absolute Monster Gentleman - Got To Be More Careful
Ben Harper - Waiting On An Angel
Michael Penn - Walter Reed
Elvis Costello - Beautiful
Joe Cocker - Feelin' Alright
Sarah McLachlan - Dear God
Josh Rouse - God, Please Let Me Go Back
Lucinda Williams Are You Alright?
Josh Ritter - Good Man
Band From TV - You Can't Always Get What You Want
"Fawlty" posted this on the Television Without Pity House Forum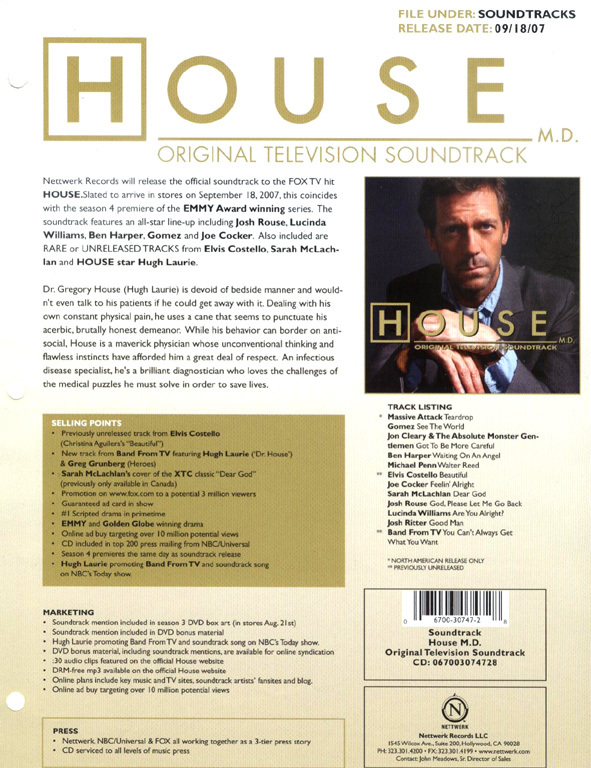 More Details available from the Fox site including some clips to listen to.